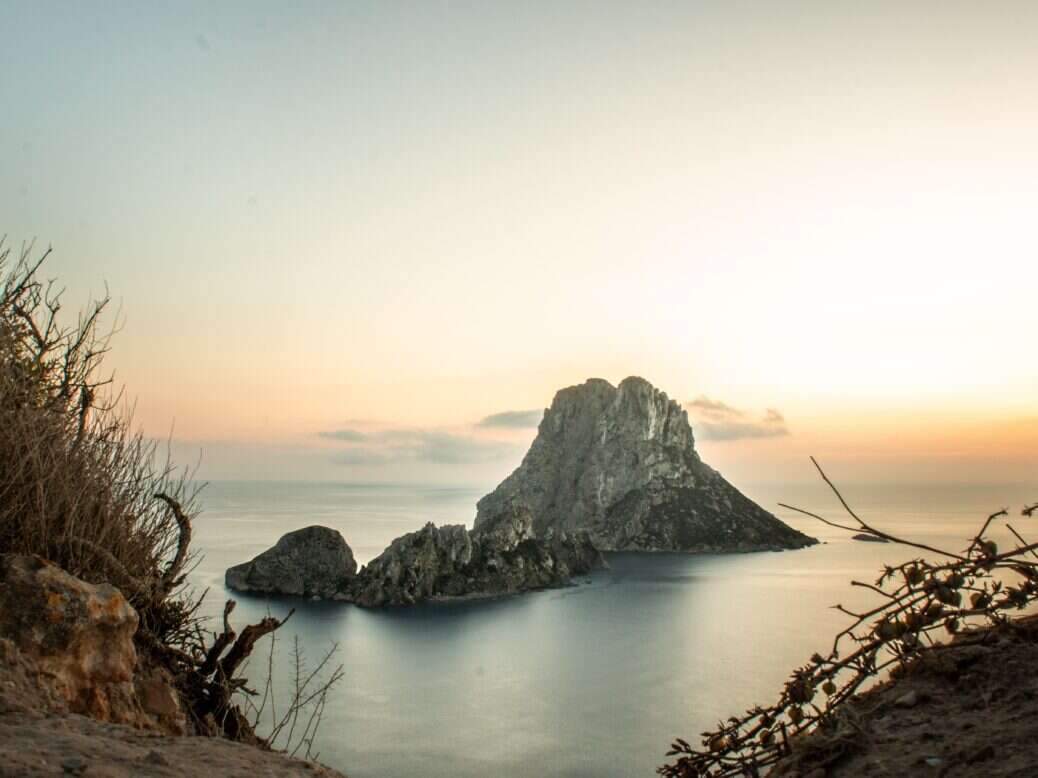 As one of Europe's most revered chefs, Quique Dacosta has done his fair share of traveling the world, it's safe to say. However, despite his presumably well-stamped passport, it seems that no faraway lands can trump the pull of his home country — Spain.
Although he has restaurants dotted around the country — including the two-Michelin-starred El Poblet in Valencia and an outpost at the Mandarin Oriental Madrid — Dacosta calls the seaside city of Dénia home.
While it's clear that home turf has Dacosta's heart, picking a favorite vacation spot still doesn't come easily. "I don't have a favorite travel destination, just like I don't have a favorite wine or a favorite food," he says.
But, like many of us, even an on-the-go chef isn't immune to the appeal of glittering turquoise oceans and picture-perfect coves: "I can't pick a favorite, but in Dénia I am lucky to have a ferry port that connects mainland Spain with the Balearic Islands. I do that journey three or four times a year," he says.
[See also: Trio Behind Disfrutar Launch Compartir Barcelona]
And it is here, on the idyllic Balearic Islands, that Dacosta can fully melt into vacation mode. "What happens when you get out of that boat is that you relax. Your attitude and your mind frame have changed. And the first thing I do when I [arrive] is lie on a beach in the sand, and just stay there," he explains.
Although all of the islands have their own appeal, it is Ibiza that Dacosta particularly warms to, not least for its ever-expanding food scene (he is a chef, after all). Despite the experimental nature of his own restaurants, when on vacation it's back to basics. The first stop is Casa Jondal — a super laid-back eatery headed up by El Bulli alumnus and longtime friend of Dacosta, Rafael Zafra.
Tucked away in the impossibly pretty Cala Jondal Bay on the south coast of the island, Casa Jondal keeps its focus on serving the freshest possible ingredients from the pristine nearby waters, prepared simply but delightfully.
The menu is a clever mix of rustic delights and world-class delicacies; anchovies fried with lemon are followed by langoustine tartare with caviar, and pork ribs with grandmother's marinade are served next to wagyu rib-eye steak.
"It's a beautiful place," says Dacosta. "[The team] is astronomical. They pamper you — excellent food, excellent wine."
And what would Dacosta order to wash down his freshly caught grilled whole fish, you ask? "Champagne," is the answer (Cala Jondal's champagne menu is pretty impressive considering its laidback vibe; this restaurant clearly knows its clientele well). "If not champagne, some other kind of dry sparkling wine, made in the Champagne method," he says. "It goes great with anything eaten in that context."
Next up on this culinary tour of the White Isle is Es Boldado, a rustic restaurant famed across Ibiza for its paella dishes. To be named as a favorite by Dacosta — who is widely known for elevating the traditional Spanish rice dish to unseen fine dining in his several restaurants — is a pretty impressive accolade. For Dacosta, however, a visit to Es Boldado means ordering bullit de peix, which translates directly to 'boiled fish.'
Traditionally made using the catch of the day — usually a white fish, often John Dory or monkfish — with rice and potatoes, the bullit de peix was once considered a humble fisherman's dish, but has now evolved to become emblematic of Ibizan cuisine and a staple on the menus of its most authentic restaurants.
"The fish you are eating is actually what creates the broth that you cook the rice with, and it always has a little bit of aioli with saffron, so it is just an explosion of flavors," Dacosta reminisces.
[See also: Eneko Atxa on a Dedication to Green Gastronomy]
Aside from the unrivaled food, a huge part of the joy of a meal at Es Boldado is the setting. Found on a quintessential rugged Ibizan rockface, the restaurant enjoys views across the mythical Es Vedrà rock from its open-fronted dining room. "Your feet are practically there touching the water, and you see some fishermen boats, maybe a little bit further away you can see a megayacht going around the Mediterranean," says Dacosta. "This is the essence of what the island is. This is where I would send someone who has never been to Ibiza."
When it comes to accommodation, Dacosta's tastes are equally laidback: "I try not to go to the same place twice, and I like to explore and find those little off-the-grid corners. Last time we visited [Ibiza] we stayed in the northern tip of the island in a hippy-style place called Los Enamorados."
The boutique, adults-only hotel is exactly as Dacosta describes: hippy-chic, in a way that only Ibiza can pull off. Rooms are simple yet carefully outfitted with natural textures, warming colors and billowing fabrics, while the outdoor bar and restaurant are awash with low-level communal seating, inviting guests to indulge in a lazy day of cocktail sipping and tapas nibbling.
"[Los Enamorados] is a place full of stories. One of the reasons I try to go to different places and go off the grid is because you're going to meet new people, so next time we'll go somewhere else and meet someone new. When you go to a place, you need to learn from people. That's the best way to travel."
This article appears in the 05 Sep 2022 issue of the New Statesman, Fall 2022