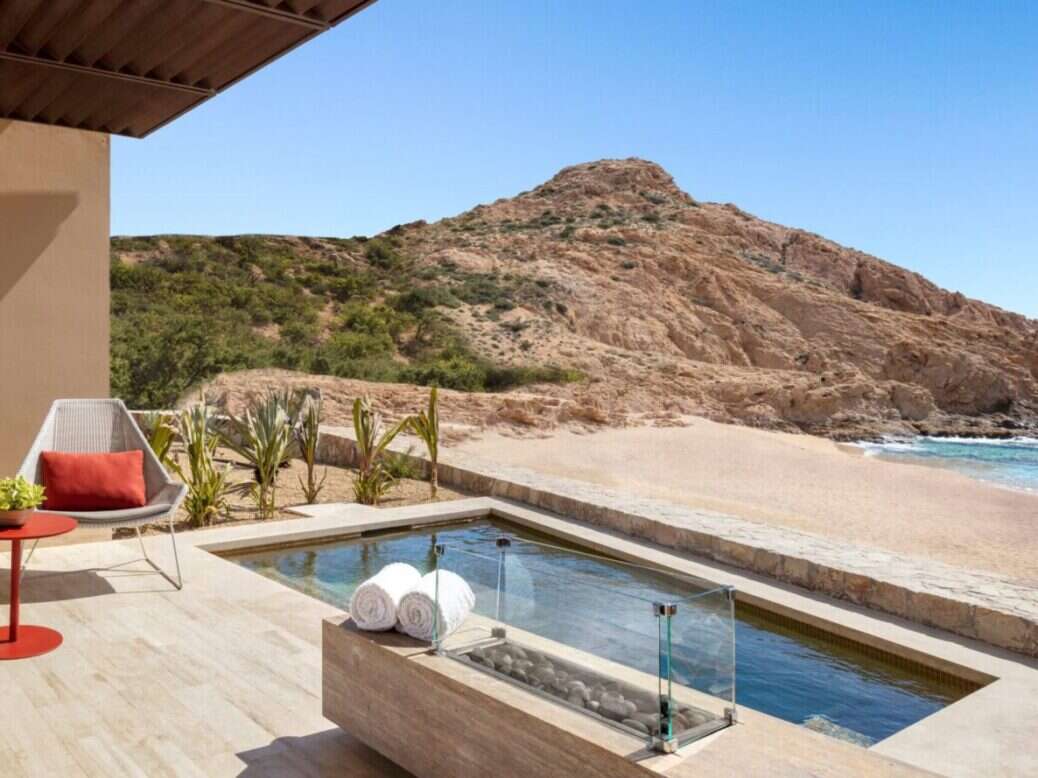 Tucked away on the very tip of the Baja California peninsula, Montage Los Cabos has long been known for delivering prestigious levels of luxury seamlessly blended with authentic Mexican culture. Now, the resort has upped the ante with the revealing of its newly-updated Pool Suites ahead of the holiday season.
Thirty-one rooms have been updated at the oceanfront resort, each of which now features its own private pool with views across Santa Maria Bay beyond. The new accommodations range from studio suites to sprawling three-bedroom suites, giving couples and larger groups alike the chance to make the most of Montage Los Cabos's latest offering.
[See also: The Most Anticipated Hotel Openings of 2023]
Some of the new suites open out to the beach below, while others feature expansive private lawns. Each Montage Los Cabos Pool Suite has a serene outdoor terrace, perfect for a pre-dinner sundowner.
Along with the suites, the resort has also debuted an all-new, custom-made VanDutch yacht. Measuring in at 56 ft, the yacht can accommodate up to ten guests for an array of excursions, from sunset cruises through the Sea of Cortes to snorkeling at Pelican Rock.
[See also: Six Senses CEO Neil Jacobs on Sustainable Luxury]
Service onboard mirrors the high standards enjoyed back at the hotel, with a customized bar and appetizer selection. When not diving in the ocean, guests can bask on the sunbathing deck or enjoy the dining area in the cabin.
Montage Los Cabos's new VanDutch yacht expands the resort's already-substantial experiential offerings, with kayaking, fishing, stand-up paddleboarding and sailing all available.
[See also: The Best Restaurants in Los Cabos]
The resort has also recently announced its holiday programming and, in true Montage style, there's a big focus on the culinary offering. Guests can indulge in Mexican wine workshops, sweet-making courses and beachfront BBQs, as well as an exuberant Christmas Day brunch.
Come New Year's Eve, the resort will play host to a lavish night of celebrations to see in 2023. Guests are invited to a New Year's dinner at Marea restaurant before a grand poolside Countdown Party.