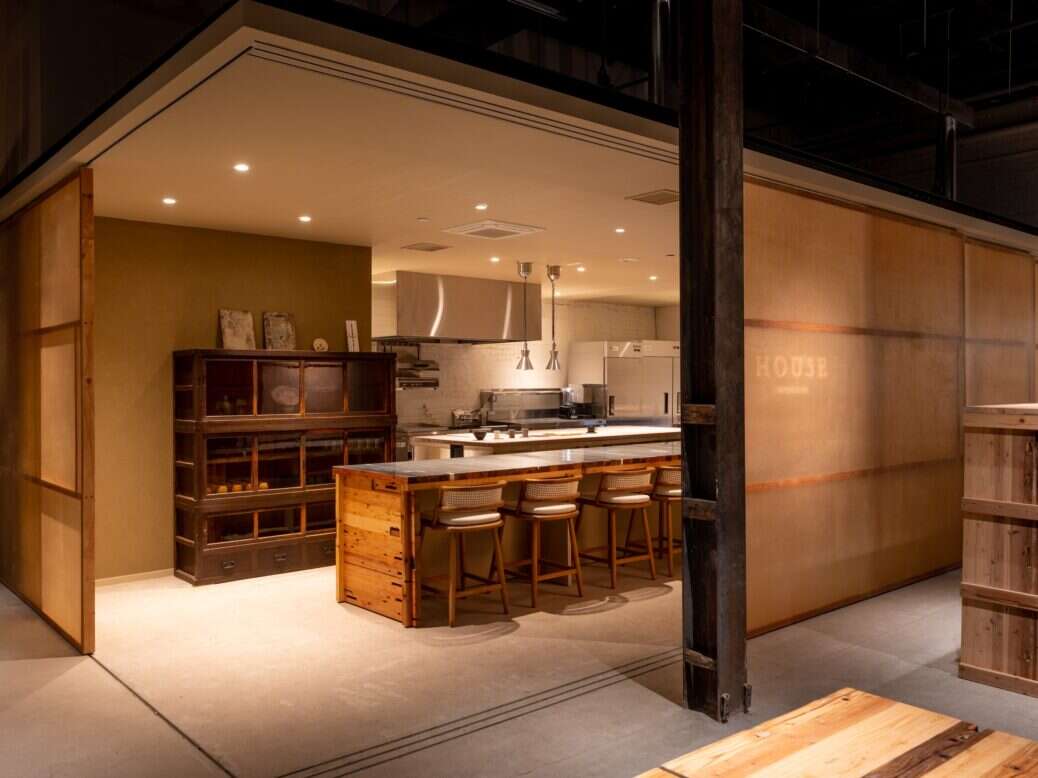 The vibe of House Brooklyn is all in the name: a restaurant so intimate and so personable that you may as well be sitting in the kitchen of one of your closest friends. At House Brooklyn, that friend is head chef Yuji Tani.
Found inside 50 Norman, Greenpoint's trendy Japanese retail complex, the restaurant is as discrete as they come with just eight seats spaced around a tiny but busy open kitchen, all of which is tucked away behind a sliding door. By day, you'd hardly even know it existed.
Tani's first House restaurant remains open in Tokyo, where it serves what has become his signature elevated yet comforting Japanese-French cuisine. In 2019, however, the chef relocated his family to New York, where he had dreams of opening his first restaurant outside of Japan. You-know-what put an understandable spanner in the works but now, the dream has become reality with the recent opening of House Brooklyn.
[See also: A Guide to All Three-Michelin-Star Restaurants in the USA]
With such a limited number of seats, just two sittings per night and only four openings a week, a spot at House Brooklyn is about to become the hottest ticket in town.
Chef
Chef Yuji Tani was brought up in Kyoto, where he first forged his culinary career in French restaurant Bellecour (now called La Part Dieu), after switching trades from being a futon salesman.
From here, he traveled to Tokyo to hone his skills. After working in several restaurants across the city, in 2007, he opened the first House restaurant, before becoming chef-owner in 2017. While Tani has now moved stateside to run the Brooklyn edition of House, the original Tokyo property remains open, serving its signature home-style, Japanese-French cuisine to a loyal roster of diners.
[See also: Frenchette Team Open Le Rock in the Rockefeller Center]
Tani's goal is to not only present guests with beautiful, delicious dishes, but also to use each plate to tell the story of the farmers and suppliers that made each one possible.
Menu
With their shared levels of precision, distinguished flavors and respected prestige, the cuisines of France and Japan make a natural pairing. Ingredient preservation is a particular parallel between the two: in French gastronomy, this is done through layering spices and herbs; in Japan (and particularly Tani's native Kyoto), dashi and fermentation processes are used.
House teams the two cuisines perfectly, highlighting both the most famous flavors from each, as well as the lesser represented. Tani's signature dishes include Stracciatella cheese with strawberries, and Foie Gras Pilaf with Kyoto-style pickles.
[See also: Verzeroli's Veg-focused Le Jardinier Returns to New York]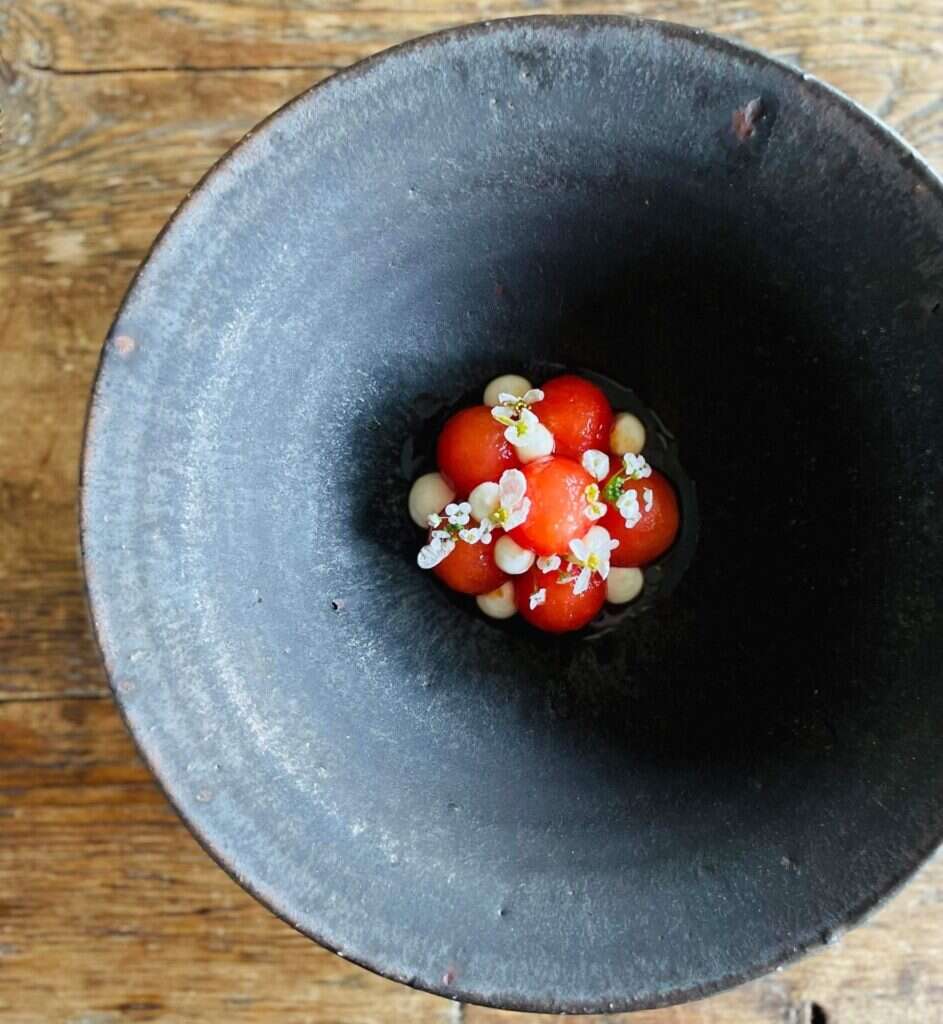 The food is, of course, beautiful too. Rich, earthy colors seep from every dish, with plating clearly no afterthought. As you'd expect from a seven-course menu, each plate is delicate and dainty, with a high level of precision.
A carefully curated wine flight is available to accompany the tasting menu, but despite the French influence, House is at its heart a Japanese restaurant, so don't pass up the chance to try the stellar sake selection.
Interior
Hidden in plain sight behind a sliding door, House clearly leans more toward Japan than France in its interior design. Like the rest of 50 Norman, the small space is sleek, minimalist and enviably stylish (this is Brooklyn, after all).
An industrial vibe is warmed up by raw reclaimed wood finishes and vintage furnishings, with eight stool chairs sat neatly in a row in front of the polished bar-top table.
The neutral-colored walls are left unadorned; no art is needed when you've got an open kitchen to gaze upon instead.
House, 50 Norman Ave Brooklyn, New York, 11222, United States, house-bk.com
[See also: The Most Iconic Restaurants of the Elite Traveler Era]