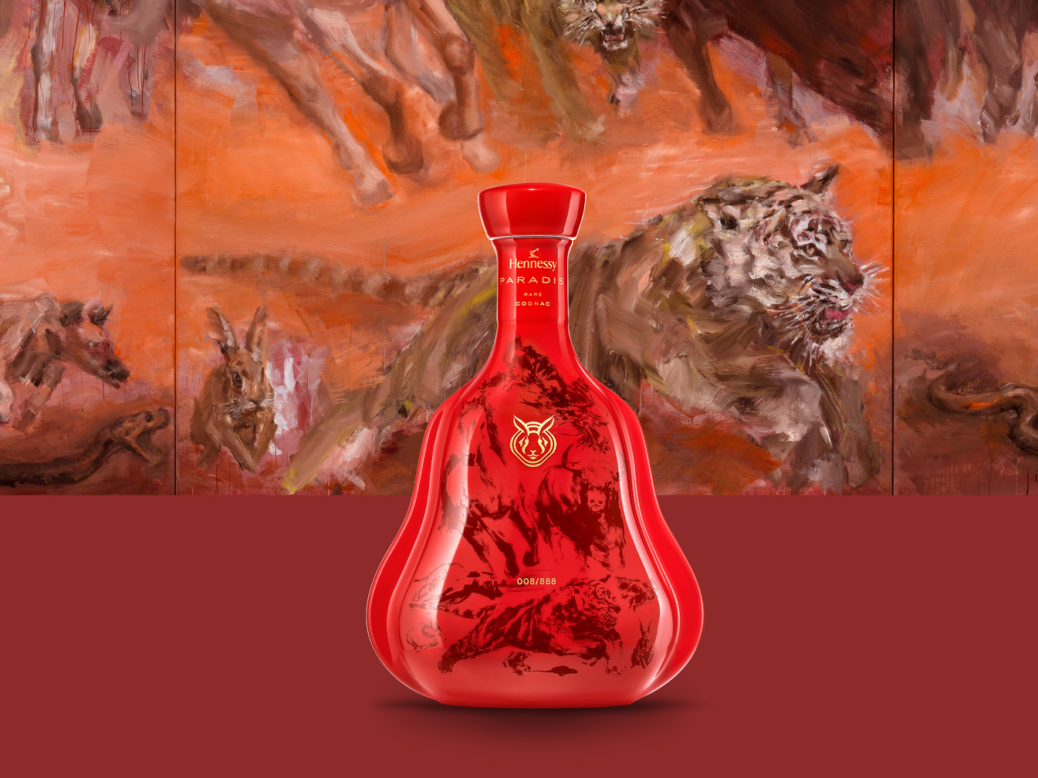 Maison Hennessy is celebrating the Chinese New Year with the release of a new rendition of the company's Editions Rares through an exciting partnership with internationally acclaimed artist Yan Pei-Ming and luxury porcelain brand Maison Bernardaud.
The limited-edition decanter, which is one of a kind, will exhibit Pei-Ming's painting, La Grande Course (The Great Race), which was directly inspired by the exclusive Paradis cognac itself. Bernardaud porcelain carafes are meticulously hand-decorated on to mirror the artwork, and the final piece will be presented in a gorgeously crafted wooden box, as is typical for Hennessy's Editions Rares
"When you hold a bottle of cognac up to sunlight, its hues vary so much," says Pei-Ming of the inspiration behind La Grande Course. "I wanted to portray cognac – but it's light that is really the color of this painting."
[See also: Richard Hennessy Cognac Unveils Striking New Design]
Renowned for his depictions of both animals and famous personalities, Pei-Ming's La Grande Course measures 19 ft wide and 11 ft tall. As China and the Chinese diaspora prepare to celebrate the Year of the Rabbit, the zodiac celebrated for their soft and tender personalities, Pei-Ming presents the animal within the extended network of the Chinese zodiac.
The end result, which also draws inspiration from Western genre films of the Hollywood golden era, is a glorious depiction that celebrates the differences between generations, and the unity that connects all across a shared culture. With an orange and red-themed palette that utilizes tones of amber, burgundy and burnt sienna, the influence of the golden brown shades of Hennessy is clear.
[See also: Taking a Step Back in Time with Louis XIII Cognac]
The limited Lunar New Year edition of the Hennessy Chinese New Year collaboration includes a one-liter Hennessy Paradis carafe created and hand-decorated by Maison Bernardaud, of which the design mirrors Pei-Ming's La Grande Course.
Only 888 pieces are available, all created exclusively for the Chinese New Year, and will be sold exclusively in select retail destinations.
[See also: Lorenz Bäumer on Designing NBA-inspired Hennessy Decanter]