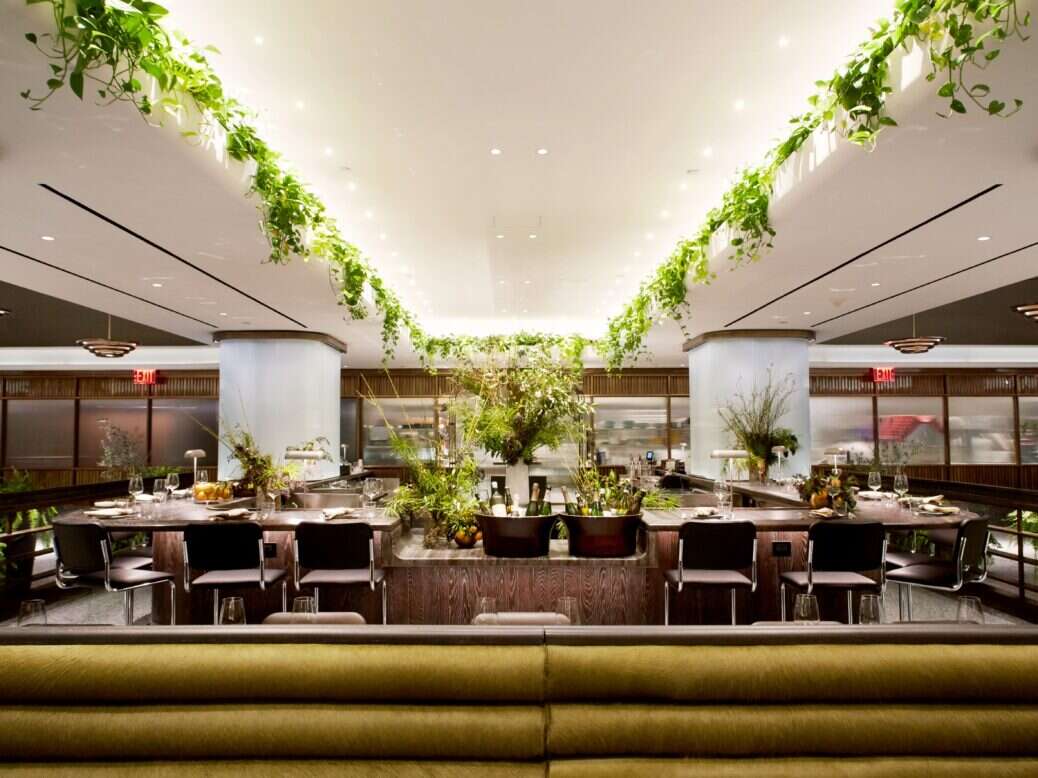 The Rockefeller Center has undergone something of a culinary revelation over the past year, with the landmark building having welcomed some of the country's most celebrated chefs into its fold. The latest new restaurant opening is the highly anticipated Five Acres from the chef behind Brooklyn favorite, Olmsted, Greg Baxtrom.
Tucked away on rink level, Five Acres will act as an opportunity for Baxtrom to really experiment with the seasonally-led, upmarket cuisine that diners at Olmsted – which garnered recognition for using ingredients from its own back-yard garden – have come to know and love.
Five Acres is far more city-slicker than backyard-casual, but it's clear that the team hasn't forgotten its roots, with plenty of down-to-earth touches weaved into not only the sleek interiors but also the menu itself. Baxtrom might just be on to a winner.
[See also: The 15 Best Restaurants in New York]
Chef
Baxtrom's resume reads like a who's who of the United States' best restaurants. Among the star-studded list is Alinea, Grant Achatz's showstopping, three-Michelin-star spot in Chicago, and Thomas Keller's New York City icon, Per Se. Baxtrom's culinary career also took him to more rural settings, with a stint as chef de cuisine at Blue Hill at Stone Barns in the Hudson Valley.
In 2016, Baxtrom took the wealth of knowledge he'd accumulated and went it alone with the opening of Olmsted. Maison Yaki, a French-inspired yakitori restaurant followed in 2019, with Patti Ann's, an authentically American casual eatery having opened its doors earlier this year.
Five Acres completed the puzzle. While his other restaurants continue to delight, as his first opening away from Brooklyn in the famously ruthless Manhattan, Five Acres marks a momentous step for Baxtrom.
[See also: House Restaurant Opens in Brooklyn]
Menu
While Baxtrom's background could have easily lent itself to an extravagant, multi-course tasting menu, the chef has bucked the trend and instead offers an a la carte-only menu (for now, at least). Five Acres is a grown-up take on the veg-forward signature cuisine that Baxtrom has perfected at Olmsted, with the same sustainable ethos on a more sophisticated level.
The offering begins with a selection of comforting yet undeniably refined snacks, including the Shrimp cocktail, with French Blue prawns wrapped up in a coat of Feuille de brick pastry and served with cranberry cocktail sauce; classic Oysters Rockefeller; and Tuna tartare with Leche de Tigre made with preserved summer heirloom peppers.
[See also: Verzeroli's Veg-focused Le Jardinier Returns to New York]
Appetizers follow the same comfort-food-meets-fine-dining vibe. Cheddar pumpkin soup with pickled mushrooms; Surf & Turf crab cake with brûléed bone marrow aioli; and the Bread and butter board, featuring New York State toast, Harbison cheese butter, forono beetroots and table-side herbs.
As is Baxtrom's now-signature style, the veg and fish-focused entrees benefit from as much care and consideration as the meat dishes. Yes, there is a very tempting Grilled guinea hen with sauteed spinach and juniper jus, as well as a posh take on the Greek gyros, but the Roasted Arctic char with fermented purple cabbage and trout roe tonnato sauce could tempt even the most devoted of meat-eaters, as could the Kohlrabi alfredo with little neck clams.
Desserts promise to be irresistibly moreish, with the likes of Churros with cranberry curd and candied ginger, and S'mores with brown butter crumble standing out as highlights.
[See also: Maison Close Brings Elevated French Cuisine to SoHo]
Interiors
While, unlike Olmsted, Five Acres isn't actually outside, design firm INC Architecture & Design has gone to impressive lengths to bring the earthy, natural vibes of the restaurant's namesake farm to Midtown Manhattan.
The 65-seat restaurant has greenery at every corner, but nowhere is it more impressive than the hanging garden that suspends from the ceiling. The rest of the restaurant takes cues from this indoor foliage with deep moss-green colored banquette seating, natural-toned dark wood tables and plentiful floral installations.
A touching nostalgic design element can be found in the 10-seat private dining room, where wood upcycled from the Baxtrom's family farmhouse flanks the walls.
Five Acres, 30 Rockefeller Plaza, Rink Level, New York, NY 10112, fiveacresnyc.com