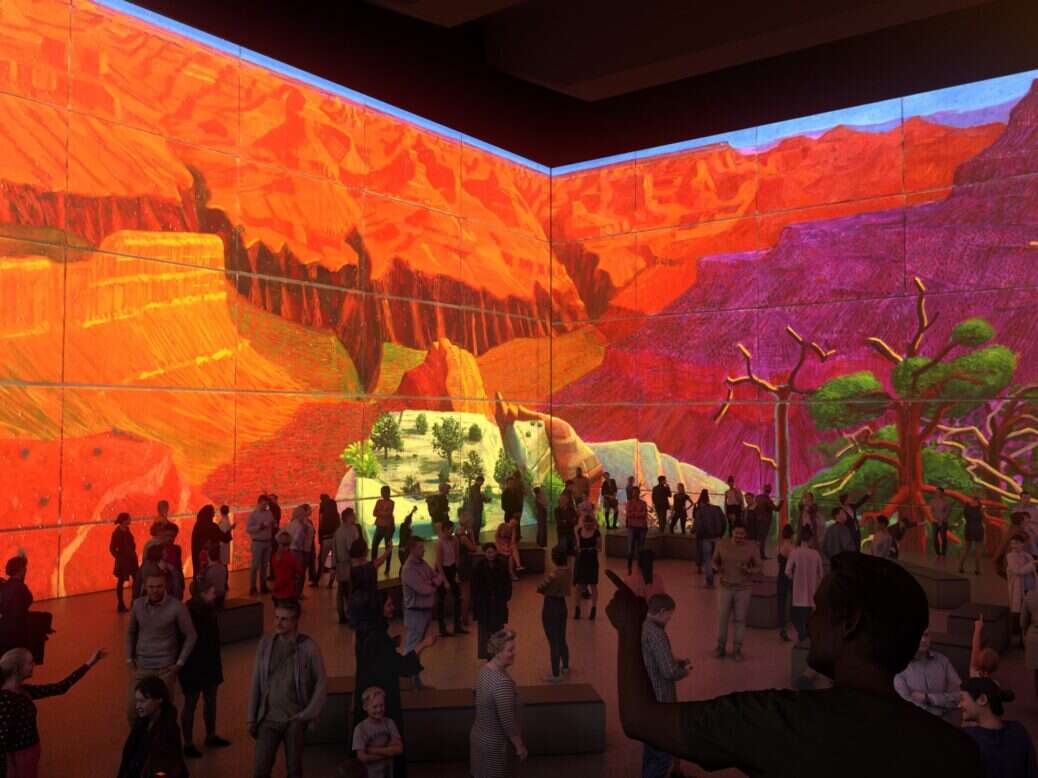 Acclaimed British artist David Hockney is set to launch an immersive exhibition at Lightroom, a newly opened four-story venue in the heart of London's Kings Cross. Titled Bigger & Closer (not smaller & further away) the show will feature archival interviews, animations, and giant projected images to completely immerse visitors in Hockney's vibrant works.
Running from 25 January through 23 April 2023, the exhibition will showcase some of Hockney's most famous paintings alongside some of his rarely seen pieces and newly created works, giving visitors a unique chance to see the world through his eyes.
London-based design and production company, 59 Productions, curated the show, working with Hockney for three years to bring his vision to life and explore his fascination with new media forms.
[See also: Hall des Lumieres Digital Art Space to Open in New York]
During his lifetime, the pioneering artist – a key figure in the British Pop Art movement of the 1960s – has produced works across a diverse array of mediums including acrylic paintings, collages, digital works created on iPads and full-scale opera sets.
Split into six themed chapters, the exhibition will take the audience on a "personal journey" through Hockney's art. Revered American composer Nico Muhly was brought in to create a special score that includes snippets of commentary from the artist himself.
"The world is very very beautiful if you look at it, but most people don't look very much," Hockney tells visitors, as part of the soundtrack. "They scan the ground in front of them so they can walk, they don't really look at things incredibly well, with an intensity. I do."
During the unforgettable show, visitors will hear Hockney's voice as they are immersed in large-scale digital projections of his breathtaking paintings. Among the works on display include A Bigger Grand Canyon; Gregory Swimming Los Angeles March 31st 1982; and The Arrival of Spring in Woldgate, East Yorkshire in 2011.
"What's so exciting about this show is how authentically Hockney it is," said Nicholas Hytner, executive producer at 59 Productions. "Listening to his voice in this astonishing new space while seeing his artworks unfurl around the four walls is going to be both an experience and an education."
The show's director, Marker Grimmer of 59 Productions, added: "It's been thrilling to work with David over the last three years and we hope the show will introduce a whole new audience to his art."
David Hockney's Bigger & Closer (not smaller & further away) London exhibition is showing from 25 January until 23 April 2023. Tickets cost £25 (approx $30) for adults and are on sale here: lightroom.co.uk
[See also: The Hottest Exhibitions and Events at Art Basel Miami Beach]